About mid-December, the craft thrift store (trust me, its a dangerous, lovely place) had a
$2 a pound sale with one catch, you had to buy at least 4 yards.
My mom made out like a bandit, but as I'm more particular, I ended up with three fabrics, 2 knits and a lace woven. Naturally I ended up 5 yards of the fabric I ended up hating (it was the end of the bolt), and only 4 of the knit I did like. Oh well.
To start on a positive note, this fabric is pretty much my ideal fabric (if not the fiber-content, but I'm not going to be picky). I'm posting it now because apparently my lighting was kinda sub-par (yaay winter and backlighting).
The garment I just finished is something I'm really proud of! This is my first pattern hack! Woot!!! I recently picked up (like…three days ago) a copy of M6567 (which I've just seen is out of print).
One thing you might notice is that baggy, gathered waist. i have about a 10 inch difference between my waist and my hips, so gathered waistlines tend to look veeery bulky. I took view E, and merged it with M6994, since I had already tinkered with it to get the waist fitting  correctly. added some hip allowance and BAM! killer skirt!
Next up I made the Neptune tee by See Kate Sew, which I had been dying to make since last indie pattern month when I bought it. This fabric was a good choice for the pattern, but, dude, attaching the neckline evenly with that cutout took a good hour and a half. While I like how it came out, I didn't quite like how it turned out with a rayon/modal knit (which, turns out, wasn't recommended) and the fit is a little boxier than I go for. I'm thinking of another patter hack, combining it with the body and shape of Seamwork's Rio.
Next up was what I thought was a rather cosy, rosy-brown knit. It turns out it was a rib knit, and I only used it for it's intended purpose on two measly pattern pieces.
may, so you can't really see whats going on, but this is the M is for Motto Joggers pattern by Thread Faction Studio.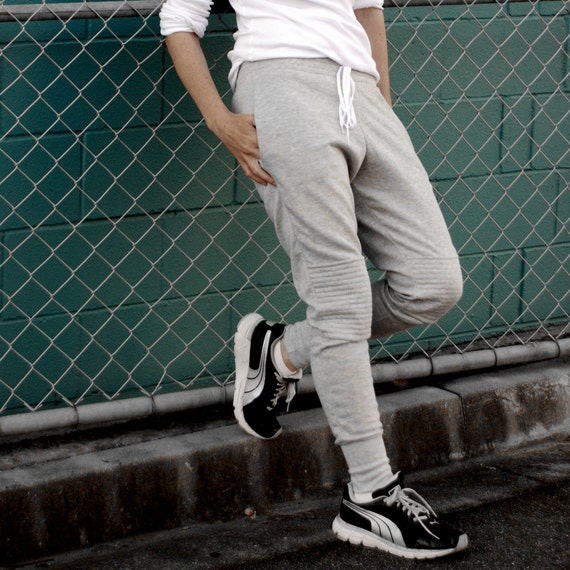 That's what its supposed to look like. Maybe it was the rib knit  pulling out of position and having no recovery, but this pattern was a beast to sew. My crotch curve didn't match, all my stitches turned out wibbly, My pockets look absolutely pathetic, and my motto knee patch is a little sad, which is the whole reason I bought the pattern, and I had to draft it myself. I'm willing to give them another try with some less mental fabric, because even though they look a bit like a hot mess, I enjoy wearing them.
They were always intended as housepants and they are fully functional in that regard.
Lastly, I made a Hemlock Tee by Grainline Studio with a long sleeve hack. I've made it before with no fuss and loved it, but something about the rib knit made my neckband all wobbly. Its lovely as a house shirt, which was 100% its intended purpose.
That's all I've made so far, and I still have a stack of stretch velvets from  Joanns to tackle, a length of brocade and 8 yards of rayon knit that just came in from Craftsy yesterday! Eep!