We are really excited to welcome back Leimomi from Scroop Patterns for another Indie Pattern Month. Nikki recently caught up with Leimomi to find out more about one of her popular patterns, the Otari Hoodie.
First, can you tell us a bit about your style and range of patterns, for people who may not have seen your brand before?
Scroop designs draw heavily on my background as a fashion & textile historian – I like mixing elements taken from historical garments with modern silhouettes and wearability, to create patterns that are a bit different to anything else out there.  In addition to historically inspired modern wear, I also make purely historical patterns, and simple, practical wardrobe-fillers, when I see a gap in the indie pattern market for those.  The Otari Hoodie is one of the latter – with some nods to history.  I'm also a sewing teacher, and one of the big challenges with that is finding patterns that are suitable for a wide range of sizes, so I put a lot of effort into making Scroop Patterns available in a very extensive size range – usually from a 30″ bust to a 52″ bust.
We'd love to hear more about this pattern. Tell us more!
The Otari Hoodie is a classic front-zipped hoodie with a relaxed but feminine fit and polished finishing details.  One tester described it as "cozy but not sloppy".  View A features a three-panel curved hood and classic banded pockets. View B features a pointed pixie hood and Art Deco inspired cloud pockets.  You can mix and match the pocket and hood options, and use contrasting fabrics for linings and bands to create a wide array of looks.
What inspired you to create the Otari Hoodie?
The Otari started with a walk along the coast with my husband last spring: I wanted an outer layer a little heavier than a cardigan, but lighter than a jacket, with pockets big enough to hold my camera.  My wardrobe came up short, so I borrowed one of my husband's hoodies, and went from being not-at-all-a-hoodie-wearer to a total hoodie convert over the course of the walk.  
Naturally that meant I had to make my own hoodie, especially since my sewing students had been asking for a hoodie making class.  I went looking for a hoodie pattern to use, and couldn't find a good hoodie pattern that came in a wide enough size range to use it for teaching – so I had to make my own.  That gave me an excuse to incorporate some really fun details and beautiful finishes – because even a wardrobe basic can be special.  
Where does the name come from?
The Otari Hoodie is named after Otari-Wilton's Bush: the largest botanical garden dedicated to New Zealand native plants, and the only public botanical garden focused on native plants in New Zealand.  Otari means 'the place of snares' in the Māori language, and is still a fantastic place to see native birds.  It's my favourite place to go walking with my husband, and consequently my favourite place to wear the Otari Hoodie.  Entirely unplanned on my part, but one pattern tester's husband was convinced that it was the Atari Hoodie because the pockets make the Atari logo!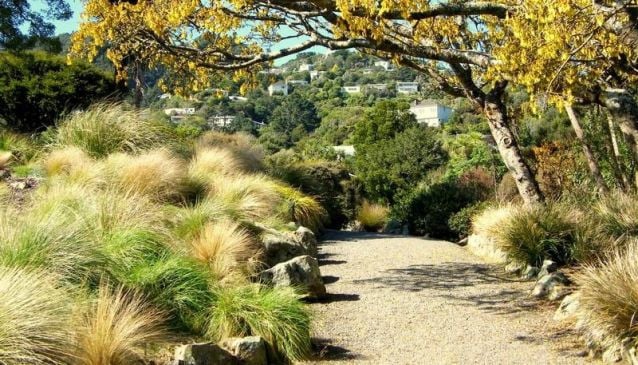 It's such a lovely style, and has some great details, such as fully lined pockets and hood. How hard is it to make?
All the beautiful finishing details do mean that it's a moderately advanced pattern.  It's definitely on the trickier side for knits.  However as a teacher I see beginners make amazing things all the time, just by paying attention to the instructions and taking care to be precise and accurate as they sew, so if you're ambitious and determined, give it a go no matter what your sewing level.  
There are some gorgeous versions floating around on the internet. Can you share some of your favorites?
I am deeply envious of Life in a Mads House's teal & stripy Otari that she made as a pattern tester [Check this post out, so many fab photos, a cute kitty and a dog! – Ed.]:
And I think the pastel version that Meg did is pretty darn special.  I love that it's not in traditional 'hoodie' colours.  
And @jorox74 on IG shared her make with me and well, suffice to say now I want a unicorn surprise hoodies!  
How about your own wardrobe — how many Otari Hoodies do you have?
I actually only have one Otari Hoodie!  I keep giving away the ones I make.  Friends come over, try on one I just finished, and somehow end up leaving with it…  Luckily I'm currently running an Otari Hoodie sew-along, making two new Otari's that will be just for me.  
We'd love to see how you style your own Otaris! Can you share some photos of how you wear them
The Otari is a real wardrobe staple for me.  Sadly that means I'm not pairing it with exciting things like big taffeta ballgowns, but I pull out my Otari (and some of my trial Otaris, that have details that were refined before I released the final pattern) nearly every day.
They are great with jeans and sneakers for walks on the beach.  I love bright shoes, and managing to pair yellow, orange, and red in one outfit. 
And with leggings for keeping warm when doing exercise-y things.  Confession: my actual running shoes are a really hideous coral that is actually too bright for me, but supportive and comfortable, so I cheated for the photos.
Thanks Leimomi. I'm loving all the Otari Hoodies I see out in the Interwebs. I think it's been sat waiting to be printed for far too long, definitely time to move it up the list! I even have the perfect fabric, which Leimomi might recognise! I really like those Art Deco inspired cloud pockets. *Goes off to print out pattern and put together!*