Hi there! It's been a long time since I've posted on Monthly Stitch, but I thought I would get back in on the action with this month's theme of Inspiration Nation!
I wish I could be all artsy and inspired and claim to be regularly inspired by nature and human beings and the colours of the wind… but to be honest the bulk of my sewing inspiration comes from lusting over other people's makes and even more so RTW garments! In particular, my make this month was inspired by the style of this skirt from Anthropologie: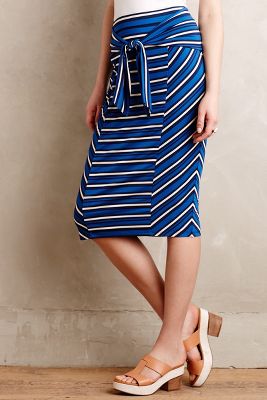 I had eyed this skirt for some time and thought that this style was really cute and versatile – so when Megan Nielsen put out a call for testers for her latest pattern, the Axel Skirt (which is incredibly similar to my Anthro dream), I jumped at the chance! I considered using a similar striped fabric to get the same effect, but given my affinity to developing food babies after a large meal, I thought it might be best to hold off the horizontal stripes for now. Incidentally, my eventual fabric choice was also inspired by another RTW garment – this men's polo shirt from Jack Wills which my boyfriend happens to own:
Those colourful specks! So subtle yet quirky and unique – it was love at first sight. By some stroke of luck I was gifted some grey lightweight cotton jersey with a subtle faded effect and the same colourful specks woven into it – perfect for testing the Axel Skirt pattern.
This is the result (and I must say I've worn it a ton since it's been finished!):
I wrote a rather lengthy review of my testing process and my feedback on my blog here and here, but I thought I'd save you all the trouble and include a summary of this make here:
Pattern: Megan Nielsen Pattern's Axel Skirt Version 2
Fabric: Lightweight Cotton Jersey Knit with poly jersey crepe lining
Alterations: Lined the skirt as the fabric was sheer. Basically, I cut out 2 of every pattern piece (except the sash) – 1 in the main fabric and 1 in the lining fabric, and sewed up the skirt using my serger as if the lining and main fabric were a single piece. I didn't baste the lining and main fabric together as I was afraid that would cause pulling in the fabric (the lining was quite a bit heavier than the main fabric). If I made this again, I might shift the position of the hip sash lower and narrow the waistband! For heavier knits I may also install an elastic waistband.
Instructions: The instructions were clear and total construction of the skirt (excluding the pasting of the pattern and cutting out fabric) took less than 2 hours! It was extremely quick and smooth sailing from the start to finish, even with the added complication of a lining.
Would I recommend it? Yes, yes I would! (Especially with Indie Pattern Month coming up soon ;D)
If you would like a more in-depth review, feel free to pop over to my blog at huenmade.com and say hi!